By Christopher Lloyd Caliwan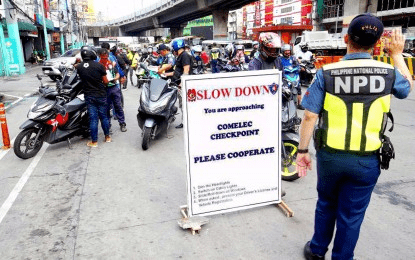 MANILA – At least 216 were apprehended while 130 firearms were confiscated during a weeklong operation following the implementation of the gun ban related to the Oct. 30 Barangay and Sanggunian Kabataan elections (BSKE).
Col. Jean Fajardo, PNP spokesperson and acting Public Information Office chief, said the violators were apprehended at Commission on Elections (Comelec) checkpoints from Aug. 28, when the election period officially began, to Sept. 2.
Fajardo said the violators were mostly civilians, two security guards and two military personnel.
The checkpoints have been strategically set up based on Comelec Resolution No. 10924 to effectively implement the ban on firearms and other deadly weapons during the 90-day election period that will last until Nov. 29.
The resolution prohibits the bearing, carrying, or transporting of firearms or other deadly weapons in public places, including any building, street, park, private vehicle, or public conveyance, even with licenses to possess or carry the same, unless authorized by the Comelec.
Exempted from the ban are law enforcers in proper uniform and on official duty, but should have authorization from the Comelec.
Violators will face imprisonment of not less than a year but not more than six years and shall not be subject to probation.
They also face disqualification from holding public office, deprivation of the right of suffrage, and cancellation or perpetual disqualification from securing a gun license.
In Metro Manila, the National Capital Region Police Office (NCRPO) has yet to monitor any untoward incidents related to the filling of certificates of candidacy (COC).
NCRPO director Brig. Gen. Jose Melencio Nartatez Jr. said they have set up more than 1,000 checkpoints since Aug. 28 in a continuing effort to thwart any election-related violence in the region.
Intensified security measures in one week resulted in the arrest of 59 so far, all yielding guns, homemade firearms, bladed weapons and other deadly items.
Of those arrested, four were apprehended in checkpoints while 55 were collared in metro-wide operations, most in the Camanava (Caloocan Malabon, Navotas, Valenzuela) and Manila.
Nartatez earlier committed to intensify the implementation of the gun ban as past crime analysis revealed that firearms are usually used in the commission of crimes.
"All violators during the duration of the election period would be prosecuted and penalized accordingly. The NCRPO will carry on with its campaign against all forms of criminality and illegal drugs while keeping the people safe and protected at all times," Nartatez said.

The unofficial count showed 46,910 barangay and Sangguniang Kabataan candidates filed their COC for elective positions in 1,709 villages of Metro Manila. (PNA)