By Marita Moaje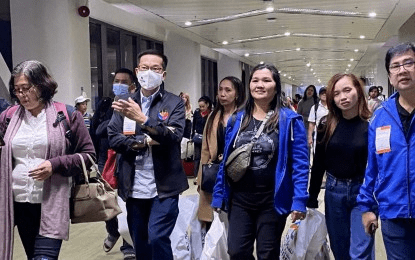 MANILA – The first two overseas Filipino workers (OFWs) repatriated from the West Bank and the third batch of OFW returnees from Lebanon arrived at the Ninoy Aquino International Airport Terminal 3 on Wednesday night.
Department of Migrant Workers officer-in-charge Undersecretary Hans Leo Cacdac said the first two OFWs from the Palestinian Authority's West Bank territory decided to return to the country due to the escalating hostilities between Israel and Palestinian militant group Hamas.
The Philippine Embassy in Amman, in coordination with the Migrant Workers Office (MWO) in Jordan, initiated the repatriation of the two OFWs after Alert Level 2 was raised in the West Bank in October.
In a Facebook post Wednesday, the Philippine Embassy in Amman said appropriate representations were made with the authorities to facilitate their entry to Jordan.
Last Nov. 4, the OFWs crossed the border from the West Bank to Jordan, with the assistance of MWO Jordan and their foreign recruitment agency in Amman.
In an announcement, Philippine Ambassador to Jordan Wilfredo Santos encouraged all Filipinos in the West Bank to prioritize their safety amid the violence that threatens the security of the Filipinos in the area.
"There are currently a total of 123 Filipinos in the West Bank composed of 91 resident Filipinos married to Palestinian nationals, their children and grandchildren, as well as nine nuns from different religious congregations and 23 OFWs," the embassy added.
It said the two OFWs received USD700 each from the DMW and the Overseas Workers Welfare Administration (OWWA).
Meanwhile, the third batch, consisting of nine OFWs repatriated from Lebanon, arrived in the country via Qatar Airways flight QR928.
The DMW said the OFWs' return was due to the escalating tension between Israel and the militant group Hezbollah, a Lebanon-based militant group sympathetic to Hamas.
Cacdac personally helped the OFWs and assured them of all the necessary assistance and other forms of support from the government.
To date, a total of 19 OFWs have safely returned to the country from Lebanon. The first batch of four OFWs arrived on Oct. 28 and was followed by the second batch of six OFWs on Nov. 3.
The Philippine Embassy in Jordan said Filipinos in the West Bank who may need assistance may contact the Embassy through ATN (Assistance to Nationals) Hotlines at +962 77 798 8818, +962 77 907 7778, +962 77 721 9000, +962 77 907 7775, and +962 6 590 1730 for consular assistance. (PNA)