By Jose Cielito Reganit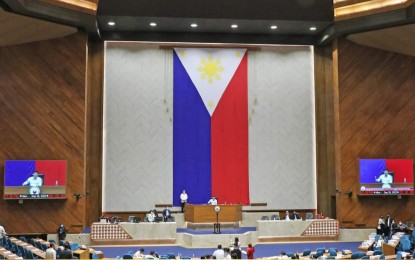 MANILA – In a productive single session, the House of Representatives has approved a total of 13 priority measures of President Ferdinand R. Marcos Jr. that were included in the Common Legislative Agenda (CLA) of the Legislative-Executive Advisory Council (LEDAC) to ensure better public services for Filipinos and expedite economic growth.
Approved on final reading during Monday's session were the National Disease Prevention Management Authority or Center for Disease Control and Prevention, Medical Reserve Corps (HEART), Agrarian Reform Debts Condonation, Philippine Passport Act and Internet Transaction Act / E-Commerce Law.
The House likewise approved the Waste-to-Energy Bill, Free Legal Assistance for Police and Soldiers, Apprenticeship Act, Public–Private Partnership (PPP) Act, Magna Carta of Barangay Health Workers, Valuation Reform Bill (Package 3), Eastern Visayas Development Authority (EVDA) and the Leyte Ecological Industrial Zone.
The passage of the 13 bills brought to 15 the total number of priority measures the House had approved since it resumed session last Nov. 7.
Last week, the House approved two other measures included in the CLA – the Virology Institute of the Philippines and the Passive Income and Financial Intermediary Taxation Act (PIFITA), which is the fourth package under the Comprehensive Tax Reform Program (CTRP).
Apart from the passage of these measures, the House on Monday night also approved on second reading another measure under the CLA, the Government Financial Institutions Unified Initiatives to Distressed Enterprises for Economic Recovery (GUIDE) bill.
Two other bills in the CLA adopted by the LEDAC, the SIM Registration Act and the Resetting of the Barangay and Sangguniang Kabataan elections, have been signed into law by President Marcos.
Meanwhile, the House also began plenary deliberations Monday on the proposed creation of the Maharlika Investment Fund (MIF).
Under the amended version of the bill, the seed fund for the MIF will be sourced from the investible funds of the state-run Land Bank of the Philippines (PHP 50 billion), Development Bank of the Philippines (PHP 25 billion) and the dividends of the Bangko Sentral ng Pilipinas (BSP) estimated at PHP35 billion for this year.
The authors have agreed to exclude the Government Service Insurance System (GSIS) and the Social Security System (SSS) as among the sources of seed money for the MIF.
Other amendments to the measure were introduced to strengthen safeguards meant to prevent misuse and shield MIF from politics.
Prior to the resumption of sessions last month, Speaker Martin Romualdez has reiterated the unwavering commitment of the House to act swiftly on the priority measures under the CLA, most especially the proposed PHP5.26-trillion national budget for 2023.
The 2023 national budget was ratified last week by both Chambers of Congress and is expected to be signed by President Marcos when he returns this week from his trip to Belgium to attend the EU-ASEAN Commemorative Summit.
"We will continue working on the passage of other LEDAC-priority bills," Romualdez said. (PNA)