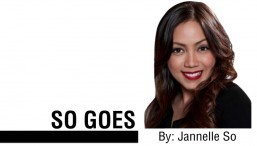 NEW YORK – There's thin crust pizza; and there's paper thin crust pizza. That's Pizza Rollio – a delicate crisp layered with a delightful blend of cheese, herbs and fresh toppings, best enjoyed in one bite, rolled up with fresh arugula, alfalfa and sauces.
The artisanal pizza created by mother Mariko Jacinto, son Deki Tajonera, and daughter Miyuki Tajonera-Tawar team from Manila introduced the concept to New Yorkers on November 28th 2014 when they opened shop at The Plaza Food Hall.
While the common business model is restaurant concepts from the United States being copied and/or franchised in the Philippines, Pizza Rollio is the exact opposite, bringing a successful idea from Manila to America. The family was running two successful places in Pasig City, Philippines – at the Robinson's Magnolia and SM Hypermart – when they decided to introduce their concept to a bigger market.
"My family felt that this pizza concept will attract not only the Asian market but the global market as well. Our family then decided to take the risk and open in New York," said Miyuki who had been a resident of the Big Apple for 15 years now, which is why the family decided to open there.
Open, they did; but they did not look for any ordinary corner. Instead, Miyuki said they approached the head of retail at The Plaza Food Hall, "where all top chefs and famous food shops are located, such as Daniel Boulud, Francois Payard, Luke's Lobster, and Lady M. We really determined to get a space in this location."
They had little preparation for the meeting; but apparently, the food presented itself.
"When they tasted our paper thin crust pizza, they just loved it! We were very fortunate to have been given the last retail space which is right across the famous Eloise Shop," said Miyuki.
For her, every day of the last four months or so that they've been in business is a learning experience. She said she and her family have often compared doing business in America and back in the Philippines. While there are different theories and processes, there are similar values that can make or break a business, especially one that's in the service industry like theirs.
"Whether here or there, we have to show respect to the people we work with and create an environment where each and every customer experience something worthwhile and in the end, they are happy and satisfied," she said.
Happiness, satisfaction and pride are also what they get from being the only Filipino business owners at the Plaza Hotel.
"All of the people we interact with since we opened our business have said all great compliments. They say Filipinos are the most wonderful to work with and that we always have a smile on our faces," Miyuki shared.
Their product may just be the thinnest pizza you will ever encounter; but their concept is thick with possibilities, for opportunities and expansion. And they do have that in mind, to bring Pizza Rollio to other States.
"When the time is right," Miyuki said.
For now, you must all make the time to visit the city that doesn't sleep and there, you skip the zzz'z but must not miss Pizza Rollio bestsellers – "Big Bang" with pancetta, pepperoni, mushrooms and caramelized onion; "Mushroom Truffle Madness" with a drizzle of truffle oil; "Imeldific" which is topped with spicy code roe and chives.
Jannelle So is credited for creating, hosting and producing America's first and only locally-produced daily talk show for Filipinos, that ran for 8 ½ years under her leadership, making it the longest-running Filipino talk show outside of the Philippines. On her spare time, she loves to travel. Connect to her on Facebook – www.facebook.com/JannelleSoOFFICIAL; Twitter – www.twitter.com/JannelleSo; and Instagram – www.instagram.com/sojannelle; or email her at sojannelle77@gmail.com.